Megan Hopkins
Associate Professor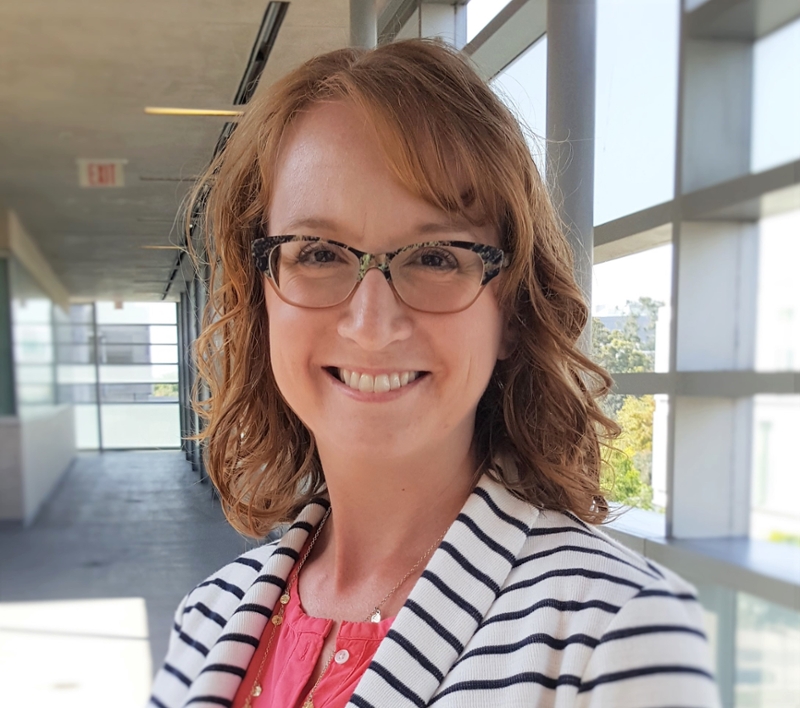 Profile
Education
Publications
Projects
Profile

Dr. Megan Hopkins is Associate Professor of Education Studies at UCSD. Drawing on organizational sociology, her research explores how to transform education systems to support teacher learning and development, with a particular focus on bilingual and multilingual contexts. Her current work uses mixed methods, including social network analysis, to examine how formal policies and organizational structures, as well as school norms and individual beliefs, shape teachers' opportunities to learn both within and between education systems.

Dr. Hopkins completed her doctorate at UCLA, and a postdoctoral fellowship at Northwestern University. She also held appointments at Pennsylvania State University and the University of Illinois at Chicago, prior to joining UCSD. Her scholarship has appeared in several top-tier journals, including Educational Researcher, Educational Policy, Journal of Teacher Education, and American Educational Research Journal. She is co-editor of the volumes Forbidden Language: English Learners and Restrictive Language Policies (with P. Gándara, Teachers College Press, 2010) and School Integration Matters: Research-Based Strategies to Advance Equity (with E. Frankenberg and L. M. Garces, Teachers College Press, 2016). In 2012, Hopkins received the Dissertation of the Year Award from the Bilingual Education Research Special Interest Group of the American Educational Research Association. She is a member and fellow of the Working Group on ELL Policy (ellpolicy.org).

Please see Dr. Hopkins' current list of projects, and contact her directly should you have interest in research opportunities: mbhopkins@ucsd.edu.
Education

Ph.D.

University of California, Los Angeles, 2011

Education (Specialization in Urban Schooling)

M.Ed.

Harvard University, 2006

International Education Policy

B.A.

Indiana University, 2002

Spanish (conferred with Highest Distinction), Liberal Arts and Management

 

Multiple Subject Teaching Credential, 2007

State of California

 

K-8 Teaching Credential, Bilingual Endorsement, 2004

State of Arizona
Publications

Selected Peer-Reviewed Journal Articles

Hopkins, M., Malsbary, C. B., & Morales, P. Z. (2016). Responsive federal policy for bi/multilingual students. The Education Law and Policy Review, 3, 31-57.

Hopkins, M. (2016). Beliefs in context: Understanding language policy implementation at a systems level. Educational Policy, 30(4), 573-605. doi:10.1177/0895904814550073 [First published online in 2014.]

Brezicha, K., & Hopkins, M. (2016). Shifting the zone of mediation in a suburban new immigrant destination: Community boundary spanners and school district policymaking. Peabody Journal of Education. doi:10.1080/0161956X.2016.1184945 [Alphabetical order indicates equal authorship.]

Hopkins, M., & Spillane, J. P. (2015). Conceptualizing relations between instructional guidance infrastructure (IGI) and teachers' beliefs: Regulative, normative, and cultural-cognitive considerations. Journal of Educational Change, 16(4), 421-450.

Spillane, J. P., Hopkins, M., & Sweet, T. (2015). Intra- and inter-school interactions about instruction: Exploring the conditions for social capital development. American Journal of Education, 122(1), 71-110.

Hopkins, M., Lowenhaupt, R., & Sweet, T. (2015). Organizing English learner instruction in new immigrant destinations: District infrastructure and subject-specific school practice. American Educational Research Journal, 52(3), 408-439. [Lead article.]

Hopkins, M., & Spillane, J. P. (2014). Schoolhouse teacher educators: Structuring beginning teachers' opportunities to learn about instruction. Journal of Teacher Education, 65(4), 327-339.  

Hopkins, M., & Heineke, A. J. (2013). Teach For America and English language learners: Shortcomings of the organization's training model. Critical Education, 4(2), 18-36.

Hopkins, M. (2013). Building on our teaching assets: The unique pedagogical contributions of bilingual teachers. Bilingual Research Journal, 36(3), 350-370.

Hopkins, M., Spillane, J. P., Jakopovic, P., & Heaton, R. M. (2013). Infrastructure redesign and instructional reform in mathematics: Formal structure and teacher leadership. The Elementary School Journal, 114(2), 200-224.

Spillane, J. P., & Hopkins, M. (2013). Organizing for instruction in education systems and organizations: How the school subject matters. Journal of Curriculum Studies, 45(6), 721-747.

Hopkins, M., Martinez-Wenzl, M., Aldana, U. S., & Gándara, P. (2013). Cultivating capital: Latino newcomer young men in a U.S. urban high school. Anthropology and Education Quarterly, 44(3), 286-303.

Hopkins, M., Thompson, K., Linquanti, R., Hakuta, K., & August, D. (2013). Fully accounting for English learner performance: A key issue in ESEA reauthorization. Educational Researcher, 42(2), 101-108.

Hopkins, M. (2012). Arizona's teacher policies and their relationship with English learner instructional practice. Language Policy, 11(1), 81-99.

Orellana, M. F., García Sánchez, I., & Hopkins, M. (2011). Facilitating intercultural communication in parent-teacher conferences: Lessons from child translators. Multicultural Education, 13(3), 148-154.

Books

Frankenberg, E., Garces, L., & Hopkins, M. (Eds.) (2016). School integration matters: Research-based strategies to advance equity. New York: Teachers College Press.

Gándara, P., &

Hopkins, M.

(Eds.). (2010).

Forbidden language: English learners and restrictive language policies.

New York: Teachers College Press.
Projects
Science 20/20: Bringing Language Learners into Focus through Community-University-School Partnership (co-PI with Carla Zembal-Saul, U.S. Department of Education, Office of English Language Acquisition, 2016-2021)
The purpose of Science 20/20 is to develop a substantive, coherent, and sustainable community-based professional development model that fosters ambitious and equitable science and language teaching practices for preservice and inservice elementary teachers, school leaders, community educators, and families in the Hazleton Area School District (HASD) and supports the academic success of English learners (ELs) in grades K-6.
Closing the Achievement Gap for Long-Term and Late-Arriving English Learners (co-Investigator with PIs Laura Hill and Julian Betts, William T. Grant Foundation, 2016-2018)
This mixed methods project examines the implementation of course assignment and reclassification policies for long-term and late-arriving English learners in San Diego and Los Angeles, as well as the how aspects of the academic environment (e.g., school settings and instructional programs) influence English learner outcomes.
Exploring Teacher Learning in New Immigrant Destinations: Practice and Policy Implications (PI, National Academy of Education/Spencer Foundation, 2016-2018.)
This study explores elementary school teachers' opportunities to learn from one another about English learner (EL) instruction in two new immigrant destinations, one urban and one suburban. Further, it examines how district and school organizational contexts support teachers' EL-related learning opportunities, and the implications for EL student achievement.
Recently-Arrived English Learner Case Studies: A CCSSO Collaborative Project (co-PI, with PI Ilana Umansky and co-PI Dafney Dabach, 2016-2017)
The purpose of this study is to understand how school districts and schools are developing supports for recently-arrived English learners (RAELs, or newcomers). We will document the policies, practices, services, and resources that six districts across the country have put into place and explore the continued challenges educators experience as they work to address RAELs' diverse needs.
Fostering Research Use in School Districts through External Partnerships: The Role of District Capacity (co-PI with PI Cynthia Coburn and co-PIs James P. Spillane & Anne-Ruth Allen, William T. Grant Foundation, 2015-2017)
This project focuses on exploring the organizational conditions that facilitate the absorption of new research knowledge by school districts engaged in instructional decision-making with external partners.