Theresa Ambo
Assistant Professor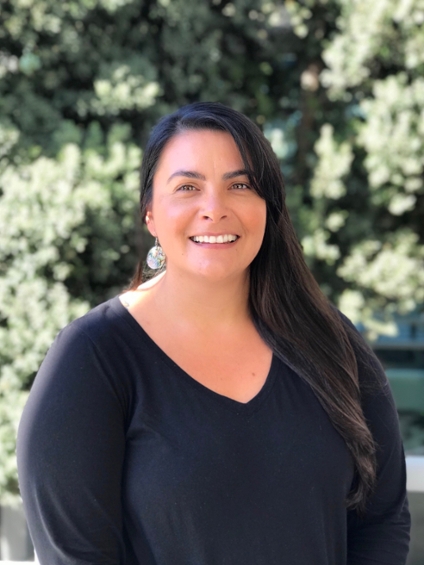 Profile
Education
Publications
Profile

Theresa Jean Ambo is an Assistant Professor and co-founder and co-director of the Indigenous Futures Institute. Theresa holds a Ph.D. in Education from the University of California, Los Angeles (UCLA) and was a UC President's Postdoctoral Fellow from 2017-2019, and is a William T. Grant Scholar, class of 2027. 

Theresa's research focuses on educational equity for American Indian students and communities in postsecondary institutions, including experience and community-campus partnerships. Her primary area of research examines the relational nature and status between public universities and local Native nations in California. Using a multiple case-study approach, she offers institutionally transferable insight into tribal community-university partnerships. In addition, Theresa collaborates with community members and researchers to analyze settler land acknowledgment statements and the histories of universities.

She currently organizes two community-based research projects—Tovaangar to UCLA and (Un)mapping UC Motkoolahooee Project—to examine the intimate and complex entanglements of postsecondary institutions in California across three waves of Indigenous dispossession—Spanish, Mexican, and U.S. governance. This research is supported by the Spencer Foundation, Lumina Foundation, and William T. Grant Foundation. 
Education

PhD in Education, UCLA

Master of Education in Student Affairs, UCLA

BA in American Indian Studies, UCLA
Publications

Ambo, T. & Rocha Beardall, T. (in press). Performance or progress? The physical and rhetorical removal of Indigenous peoples in settler land acknowledgments at land-grab universities. American Educational Research Journal.

Vaughn, K. & Ambo, T. (2022). Trans-Indigenous education: Indigeneity, relationships, and higher education. Comparative International Education. 66(3), 508-533. 

*Stewart-Ambo, T. & Stewart, K.L. (2022). From Tovaangar to the University of California, Los Angeles: The transfer of Gabrieliño-Tongva homelands from time immemorial to present. UCLA American Indian Culture and Research Journal. 45(3). 

Stewart-Ambo, T. (2021). "We can do better:" University leaders speak to tribal-university relationships. American Educational Research Journal. 58(3), 459-491.

Stewart-Ambo, T. & Yang, K. W. (2021). Beyond land acknowledgments in settler institutions. Social Text. 39(1), 21-46.

Stewart-Ambo, T. (2021). The future is in the past: How land-grab universities can shape the future of higher education. Journal of Native American and Indigenous Studies Association. 8(1), 162-168.

Stewart-Ambo, T. (2020). Higher education for California Native nation-building: A retrospective on college experience and completion. The Journal of Higher Education.

Stewart-Ambo, T. (2020). Dear Native Students. With Love. In Sablan, J. & Van Galen, J. (Eds.) Amplified Voices, Intersecting Identities: First-Gen PhDs Navigating Institutional Power. Boston: Brill Sense.

Ruiz Alvarado, A., Stewart-Ambo, T., & Hurtado, S. (2020). High School and College Choice Factors Associated with High-Achieving Low-Income Students' College Degree Completion. Education Sciences. 10(6), 153.

Ambo, T.J. (2018). Caregiving as refusal in the academy. International Journal of Qualitative Students in Education. 31(3), 215-222.

Stewart, T.J. (2018). Predictors for American Indian/Alaska Native student leadership. In Minthorn, R. & Shotton, H. (Eds.) Reclaiming Indigenous Research in Higher Education. New York: Routledge.